Somehow, the Miami Marlins are playing worse than they were expected to. As it stands right now, the Martlins are 6-19. That's a .240 winning percentage, which is even worse than the Astros, who are at .280 this season. On offense, the Marlins are dead last in baseball in runs scored, OPS, and home runs, among other categories. They are scoring only about 2.7 runs per game, and their pitching staff hasn't been much better. After gutting their rotation of all but some youngsters and Ricky Nolasco in the massive trade with the Blue Jays, their starters now have a 4.26 ERA, 20th in baseball. Their bullpen, although not as bad as the Mets', is 27th in the majors in ERA at 4.57. Steve Cishek and Chad Qualls aren't exactly the kind of pitchers who make you fear trailing late  in a game.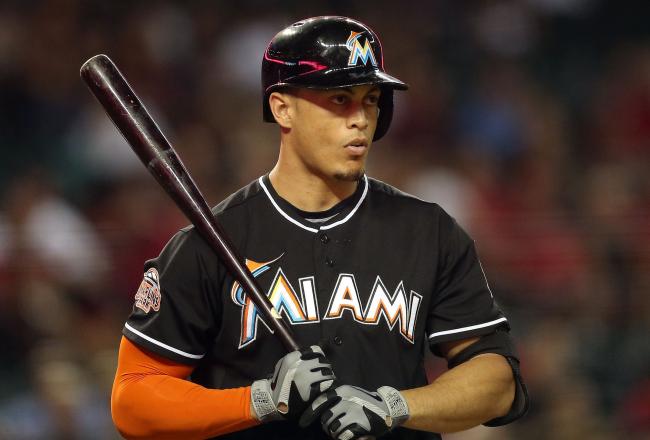 The only decent player on Miami's roster is Giancarlo Stanton, of course, but even he has been on-and-off this season. He didn't hit his first home run until his 18th game of the season two nights ago against the Cubs. He went on to hit two on Sunday, but his power numbers still have left much to be desired. His walk numbers and BABIP are at normal levels for Stanton, so perhaps it's the shoulder contusion that Stanton suffered a few weeks ago which has been bringing down his production.
Overall, the Marlins are a team the Mets should handily beat. Although some cynics predicted the Mets to compete with the Marlins for last place, that seems unlikely with the way the Marlins have started the season. Hopefully the Mets will be able to use this series to get back on track.
Pitching Matchups
Game 1: Matt Harvey, RHP (35 IP, 233 ERA+, 3.90 K/BB) vs. Jose Fernandez, RHP (20 IP, 84 ERA+, 2.38 K/BB)
The Mets saw Fernandez make his big league debut against them on April 7, when he allowed one run on three hits in five innings while striking out eight. He has had one good start and two iffy ones since then. In his last start, which came against Minnesota, he gave up four runs on six hits in five innings. In his start before that, he gave up five earned in four innings against the Reds. One thing to take note of in game one of this series will be Fernandez's pitch count. The Marlins have coddled him thus far, keeping him around 8- pitches in each of his starts.
Game 2: Jeremy Hefner, RHP (21 IP, 70 ERA+, 1.09 K/BB) vs. Kevin Slowey, RHP (29.2 IP, 155 ERA+, 3.50 K/BB)
After spending an injury-riddled 2012 season with Cleveland's Triple-A affiliate, the once top prospect Slowey got another shot with the Marlins. Slowey has been their best pitcher so far, putting up a team-best 2.43 ERA. It's hard to say long-term whether Slowey can hold up, but he has been very good so far and keeping his walk numbers down, which he has always been known for. In his last start against the Cubs, Slowey gave up three runs in six innings while striking out six and not walking a batter.
Game 3: Dillon Gee, RHP (25.2 IP, 61 ERA+, 2.00 K/BB) vs. Wade LeBlanc, LHP (24.2 IP, 61 ERA+, 2.00 K/BB)
LeBlanc was traded to Miami for John Baker in November 2011 after four years with the Padres. LeBlanc spent last season as a starter and reliever for the Marlins, posting a 3.67 ERA in 25 games, nine of them starts. He hasn't been as terrible as his numbers might say. His ERA is inflated from his April 15 start in which he let up seven runs in 3.2 innings against the Nationals. He has otherwise been decent. In his last start against Chicago, he gave up four runs on eight hits in six innings.
Series News & Notes
Adeiny Hechavarria, who you might remember from the last series these two teams played, suffered a bruised elbow on April 16 and was placed on the disabled list the next day. Hechavattia went 4-for-10 in the last series against the Mets in early April.
New York embarks on its second road trip of the year with three games in Miami and then three contests in Atlanta…The Mets will play 13 of their next 19 away from Citi Field…New York went 3-5 on its first road trip of the season…The Mets were 38-43 on the road in 2012.
David Wright is tied for second in the majors with 19 walks and Lucas Duda is tied for fourth in the majors with 18…The Mets have drawn 87 walks, tied for the fifth-most in the majors.
David Wright is day-to-day with a stiff neck. He will miss the first game of the series.
The Mets have hit at least one home run in 17 of their 23 games and 25 on the year, tied for the sixth-most in the National League…The Mets have hit three grand slams to lead the majors.
John Buck's eight home runs tie him for the third-most by a Met during the month of April with Dave Kingman (1982), Jeff Kent (1994), Todd Hundley (1996) and Mike Piazza(2001)…Carlos Delgado (2006) and Dave Kingman (1976) hold the club record with nine home runs in the month of April.
Source: http://metsmerizedonline.com/2013/04/series-preview-miami-marlins.html